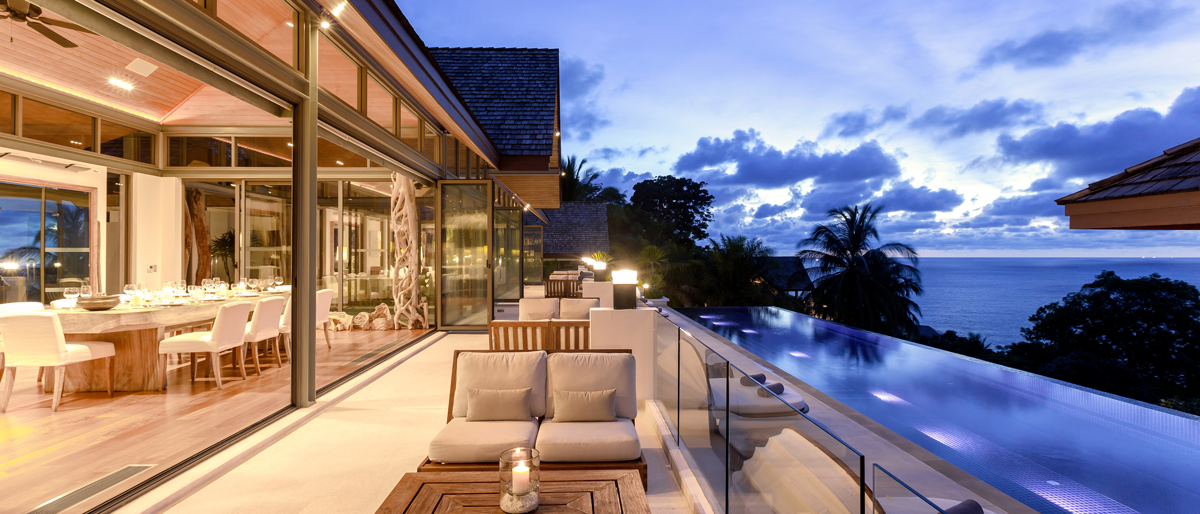 Living Areas
Indoor Living
With its white décor and soft furnishings, solid wood floors, precious stone and wood decorative pieces, and brightly sunlit living space, this contemporary luxury villa is not only stately but also extremely inviting. The spacious living and dining rooms are perfect for lounging and relaxing. The games room, cinema room with surround sound system and gym on the villa's lower level, while easily accessible, are ideally tucked away to encourage fun, entertainment and fitness without disturbing the serenity of the villa.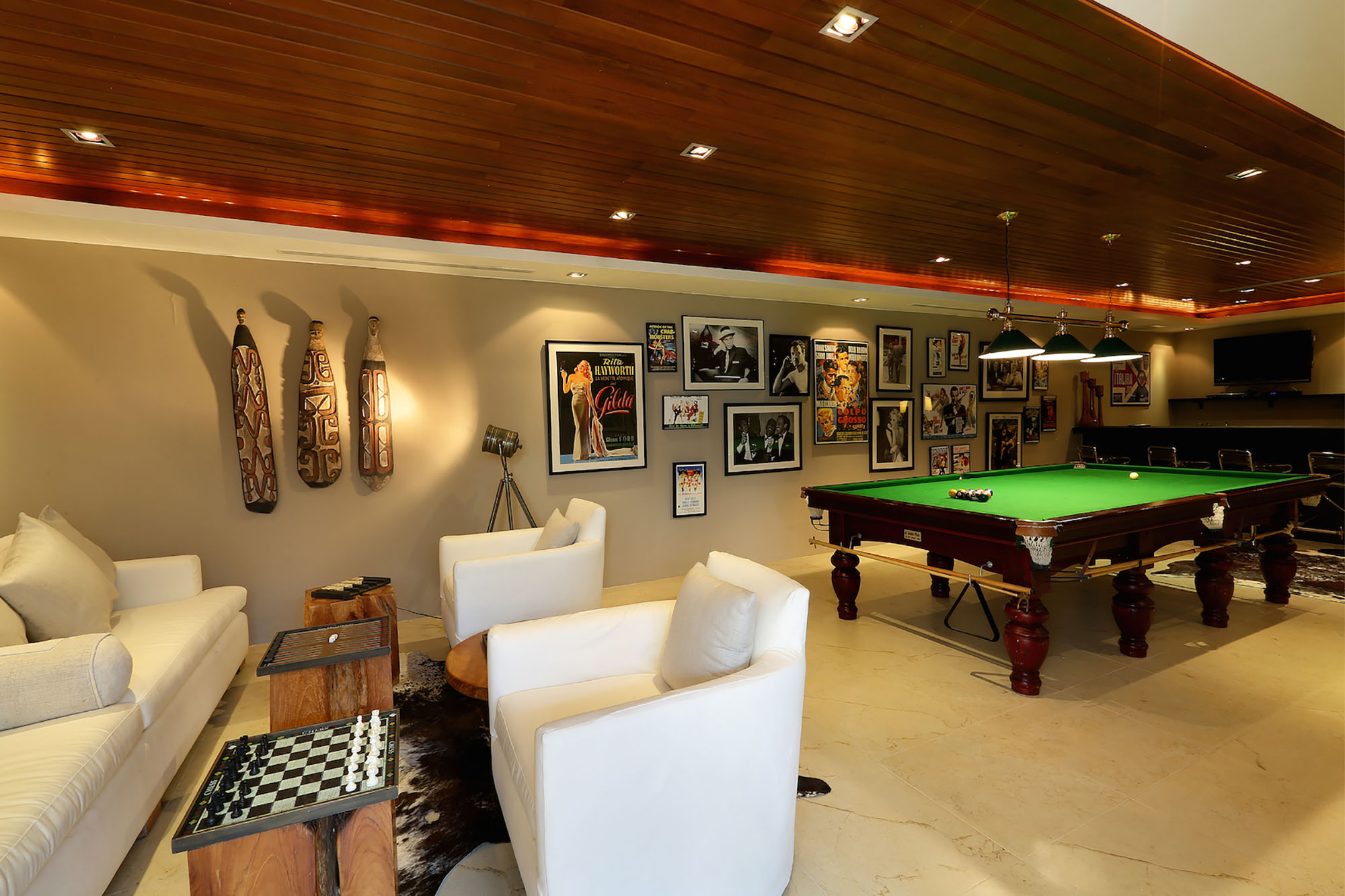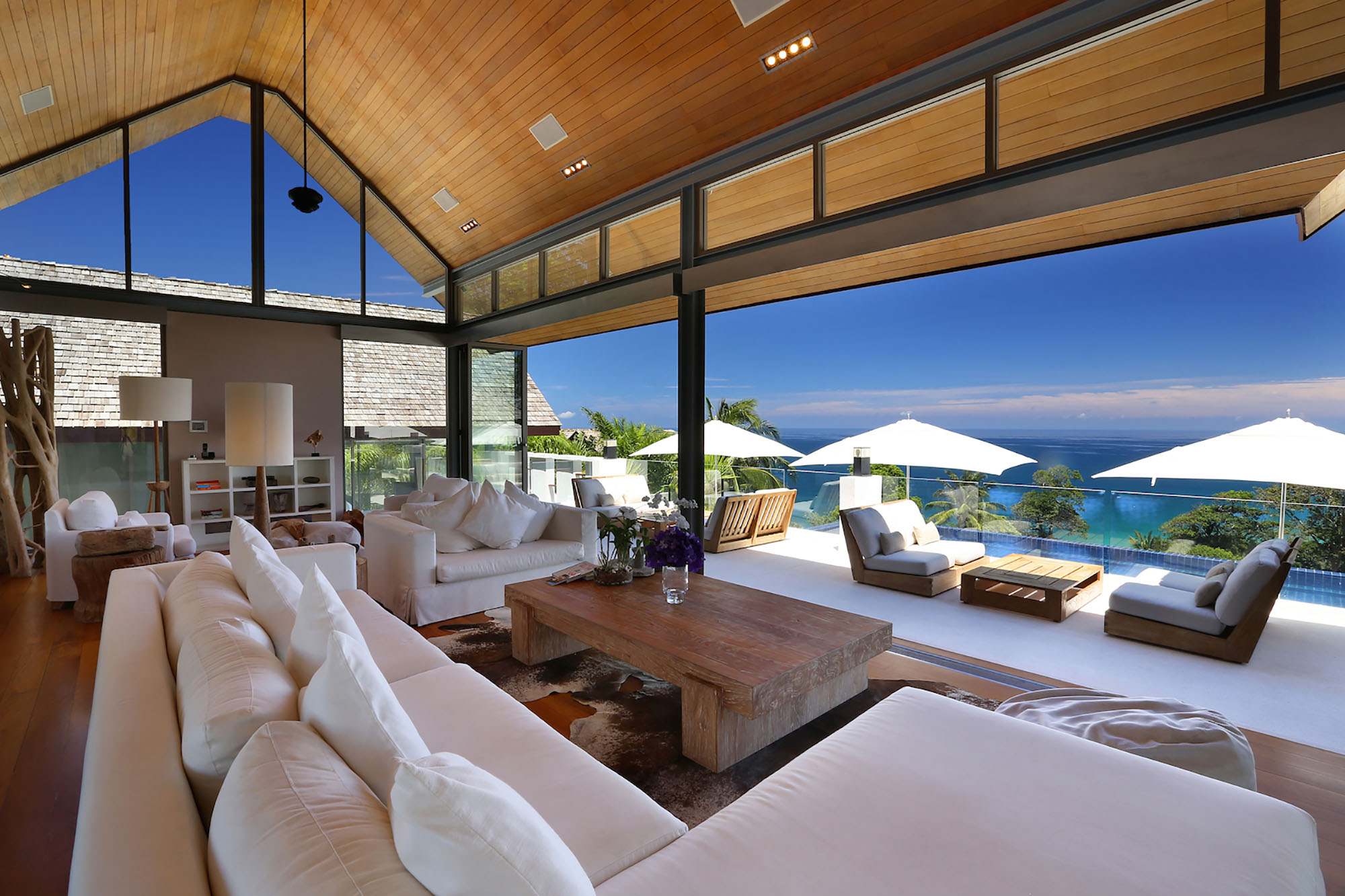 Outdoor Living
Villa Chan Grajang has an endless array of outdoor spaces and activities for guests to enjoy in this tropical paradise. A large, split-level poolside terrace and 22 x 5m infinity swimming pool impressively span the entire length of the villa, and are complemented by plenty of chairs, sun loungers and a sala for shaded repose. The lawn on the lower level is a great place for children to release their energies while adults relax and soak up the sun. The alfresco dining area makes a great setting for a barbecue.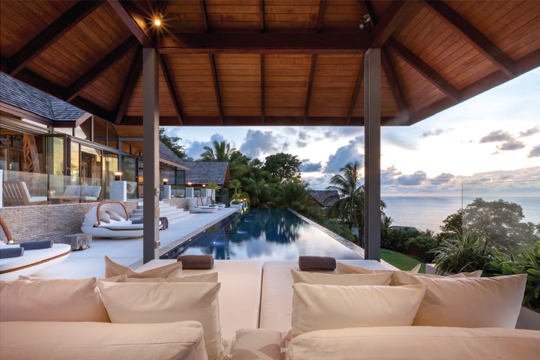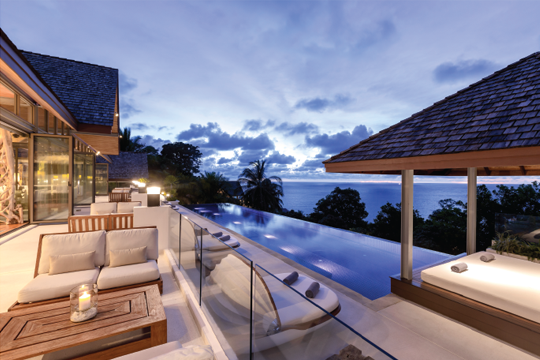 Villa Chan Grajang
Surin, Phuket
Thank you so much for the indulgence to become like children, where we could enjoy each day, receive magnificent service and never have a care in the world.
The villa is exceptional, the food is exquisite and the staff so very friendly and funny!! This will always be remembered as a special time in our lives.
Thank you so much.
B & S - 19-26 October, 2017 (Australia) 
Our third visit since 2011 and it's only getting better!! We're truly amazed by the level of service (attention to details & the caring to us) & the hardware of the villa (6 years and I felt like the villa is getting younger)
This is still the best villa experience I've ever had & I'm sure we are still coming back!
Next time we will come with friends with kids and I hope there will be a bit more games / activities suitable for kids. We can't wait until our next trip back to villa 15!!
Miss you all tons & see you around soon!
K & V & D & M C. - 14-19 November, 2017 (Hong Kong) – 3rd 
It has been an unforgettable return trip to Phuket. The hospitality that you all have shown us will make it difficult for us to find another team like yours. The villa itself is very well taken care of and the rooms were all so well maintained. The food has been excellent and we all gained a few pounds. It would have been even better if a treadmill was available. We can't wait until we come back and visit again in the near future.
R.H - 29 September – 3 October 2017 (Hong Kong) 
Thank you for another special weekend in paradise. The second trip (since our last experience in 2016) has been even more memorable, delicious and heavenly. Thank you so much for our delicious off-menu (crab curry, GIANT shrimp) items…But….our favourite food was your brownies! Thank you, thank you, thank you. As well, we enjoyed many movies in the beautiful new movie studio. The sound system and new decor are 10/10.
Love, always.
V.L., H, D, F, M, T, K - 30 March – 4 April 2017 (Hong Kong) 2nd
The famous philosopher Alexander Stoddard once said 'when you love a beautiful place, you carry it with you wherever you go'
I know that we will carry the memories of our stay here in our hearts for a very long time. Thank you for the magical moments you have helped to create on our second visit here.
V.L., H, D, F, M, T, K - 30 March – 4 April 2017 (Hong Kong) 2nd